The Indian Association for Parenteral and Enteral Nutrition (IAPEN) is an organization in the field of parenteral and enteral nutrition and promotes basic research, clinical research, advanced education, organization of consensus statements about clinical care and quality control. Fitness, Sports and Nutrition (FSN), India is a core group of IAPEN, along with Hospital Nutrition Steering Committee (HSNC) and Malnutrition Task Force (MTF).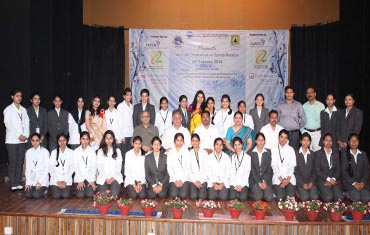 Our Aim
"Through partnerships with the public, private, and non-profit sectors, the FSN (Fitness, Sports & Nutrition) group promotes programs and initiatives that motivate people of all ages, backgrounds, and abilities to lead active, healthy lives"
Adopted from 'President's Council on Fitness, Sports, and Nutrition, USA ( http://www.fitness.gov).
Our Objectives
FNS aims to provide a scientific but easily understood overview of aspects related to nutrition and physical activity, especially of people involved in regular training with the goal to improve intensive sports performance.FSN aims to achieve a maximal degree of scientific consensus in the area of Fitness and Sports Nutrition Research by promoting various activities like awareness camps, fitness workshops etc.
FSN focus on prevention rather than treatment of various health problems by promoting productive lifestyles.
FSN started in 2014 during the National Conference on Sports Nutrition, 28th Feb 2014, Sant Hirdaram Girls College, Bhopal, Madhya Pradesh, India. More information, refer to History page.
Courses
Fitness Trainer Certification

INR 20000

Fitness Trainer Certification Course is designed for people who wish to become personal trainers or gym instructors. read more

Youth Fitness Trainer Certification

INR 5000

This course is specifically designed to cater to fitness needs for younger population. read more

Senior Fitness Trainer Certification

INR 5000

This course is specifically designed to cater to fitness needs for senior citizen population. read more
See All List →
Professional Courses
Sports Nutrition

INR 25000

This course is offered to Dietitians and Physiotherapists or Doctors who have genuine interest in Sports Nutrition. read more

Paediatric Nutrition

INR 70000

This course is a part of lifelong learning initiative and will be offered to candidates who have genuine interest in paediatrics Nutrition. read more

Obstetrics and Gynaecology Nutrition

INR 70000

This course is a part of lifelong learning initiative and will be offered to candidates who have genuine interest in OBG Nutrition. read more
See All List →
Workshops
Special Workshops

INR 1500 per Participant

Our sports nutrition experts are interested in conducting custom made special workshops to suit to your organization needs. read more

Corporate Workshops

INR 25000 per Participant

Our sports nutrition experts are interested in conducting custom made special workshops to suit to your organization needs. read more

Menu Development Services

INR 25000 for 10 days

Our Sports Nutrition Expert will help your organization in implementing nutrition menu plans for 15 days. read more
See All List →
Our Team Members
FSN involves experts from various fields, who have genuine interest in promoting Advanced Education and Lifelong Learning in Fitness, Sports and Nutrition